Diane Von Fürstenberg x H&M : a unique collection of home decorations
This April 16th, Belgian fashion designer Diane Von Fürstenberg launched her home decoration collection in partnership with H&M Home. When DVF's iconic and avant-garde style meets the H&M universe, we are sure it's going to be epic! 
Just like the collaboration with Simone Rocha, it's now Diane Von Fürstenberg that teams up with H&M to offer us some bold, colourful and unique decoration pieces.
Who is Diane Von Fürstenberg ?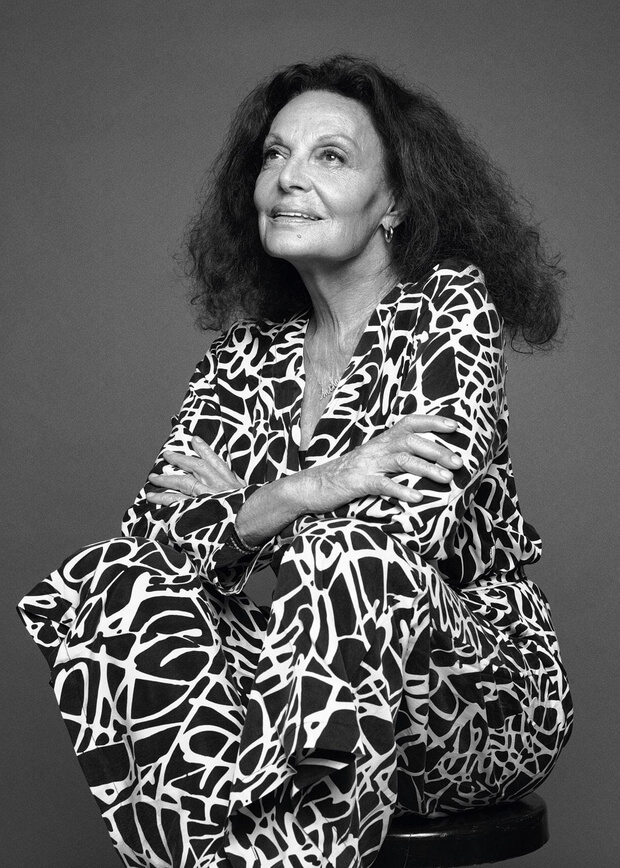 © H&M
Born in Brussels in 1946, her name was initially Diane Halfin. Married at 22 to prince Egon von Fürstenberg, Diane will keep that name even after the divorce. Her career starts when she moves to New York in 1970. Indeed, she launched her company in 1972. Two years later, DVF became globally known for the wrap dress. This creation is a strong symbol of independance and charm. Her dress was sold more than one million times in less than two years!
It's an impressive success that pushes her amongst the most influential fashion designers. Moreover, she was nominated by Forbes in 2012 the most powerful woman worldwide in fashion. Being a strong and independant woman always was her leitmotif, therefore, in order to transmit her values and to support women, she launched the DVF Award rewarding women that demonstrated strong leadership and courage in their causes.
In 2011, she also launched a line of decoration that support the expression of a personal style at home. That's exactly why this collaboration with the Swedish giant seems to perfectly fit her vision.
The collection :
The collection has 32 pieces ranging from furnitures to decoration. Furthermore, you can find a wonderful set of sentent candles. All the objects of the collection are wearing the emblematic codes and patterns imagined by the designer during her career.
First, the mouth pattern that comes from the piece of art created by Andy Warhol in 1977 for Diane von Fürstenberg. It comes back regularly in the collection with, for instance, that beautiful set of cups. Then, you have the writing « Diane » imagined in her beginning. And finally, you can find animal prints like the zebra pattern that is a true classic of the brand, or the leopard and some "excentric" colors like red and orange.
Moreover, some posters are available with strong messages like "own it". This sentence summarise wonderfully the entire collection! Indeed, Diane von Fürstenberg supports everybody to express themselves in their space and to be in charge with their live and their home.
SHOP IT – DISHES
1. Set of 4 expresso cups "mouth pattern" 24,99€ 2. Set of 4 small dishes "mouth pattern" 29,99€ 3. Set of 4 small dishes black and white 29,99€ 4. Tray "Zebra pattern" 44,99€ 5. Set of 4 expresso cups 24,99€ 6.Tray "Leopard print" 39,99€  
SHOP IT – LAUNDRY
1. Cupro dressing gown 149€ 2. Colorful zebra pattern jacquard woven wool thrown 149€  3. Black and white jacquard woven wool thrown 149€  4. Zebra cushion cover 34,99€ 5. Cushion cover 39,99€ 6. "Own it" Cushion cover 49,99€ 7. Colorful zebra print cushion cover 39,99€ 8. Leopard cushion cover 29,99€
SHOP IT – DECORATION
1. Leopard box with lid 24,99€ 2. Round vase 79,99€ 3. Graphical poster 19,99€ 4. Poster with writing 19,99€ 5. Flower box with lid 39,99€ 6. Large vase 99€ 7. Large flower pot 79,99€ 8. Decoration glass 59,99€ 9. Flower plant 69,99€ 10. "Own it" poster 19,99€ 11. Zebra print box with lid 34,99€ 12. "Own It: The Secret Of Life" 12,99€
SHOP IT – CANDLES
1. Set of 4 candles with a colorful box 39,99€ 2. Set of 4 candles in black and white box 39,99€ 3. Sentent candle in zebra pot 29,99€ 4. Sentent candle in black and white pot 29,99€ 5. Sentent candle in "love is life" pot 29,99€ 6. Sentent candle in "mouth pattern" pot 29,99€