Helmut Newton Legacy : an exhibition to see !
Visionary fashion photographer Helmut Newton is honored in a retrospective of his photographic work in Knokke until September 25. 
This traveling exhibition brings together 300 shots, some of which are exclusive, by this unclassifiable genius photographer. Through a chronological journey, it retraces his life and his work in a touching way. 
A beautiful retrospective to see absolutely this summer!
Helmut Newton (1920-2004)
Helmut Newton, born Helmut Neustädter in Berlin, Germany, is one of the world's most famous fashion photographers.
The son of a German Jewish father and an American mother, he grew up in Berlin and studied at the Werner von Trotschke high school in Berlin, then at the American School in Berlin.
Helmut Newton Copyright © Getty Images
From an early age, he was interested in photography. And from 1936, he became a pupil of the German photographer Else Simon, known as "Yva". This will greatly influence him in the discovery of his photographic style.
During the Nazi occupation, he left Germany in 1938 for Singapore and then Australia and joined the Australian army during the Second World War.
His work
Helmut Newton became famous mainly for his fashion photography but also for his subversive shots like his female nudes. Inspired by expressionist cinema, sadomasochism and surrealism, these photographs tap into these voyeuristic worlds in controversial and provocative ways.
Bathed in a glamorous world of glitter and stars, the photographer cultivates a taste for extravagance in his personal life as well as in his work.
He did plenty of classic studio shots, but he also ventured into the streets. He then staged models as protesters.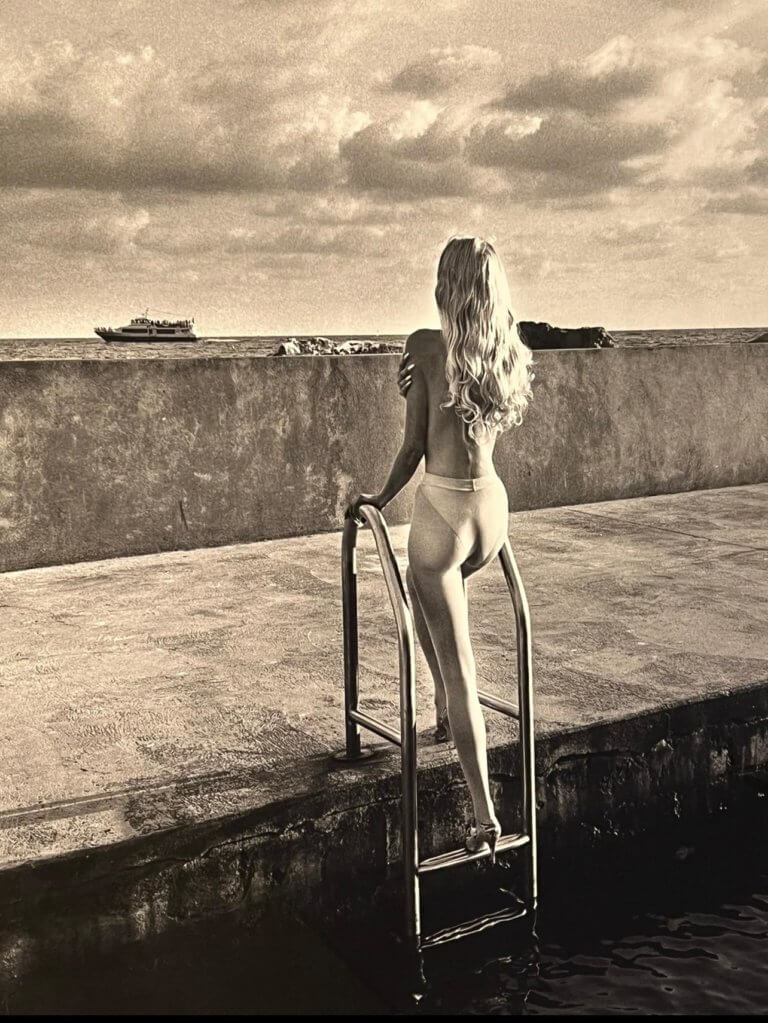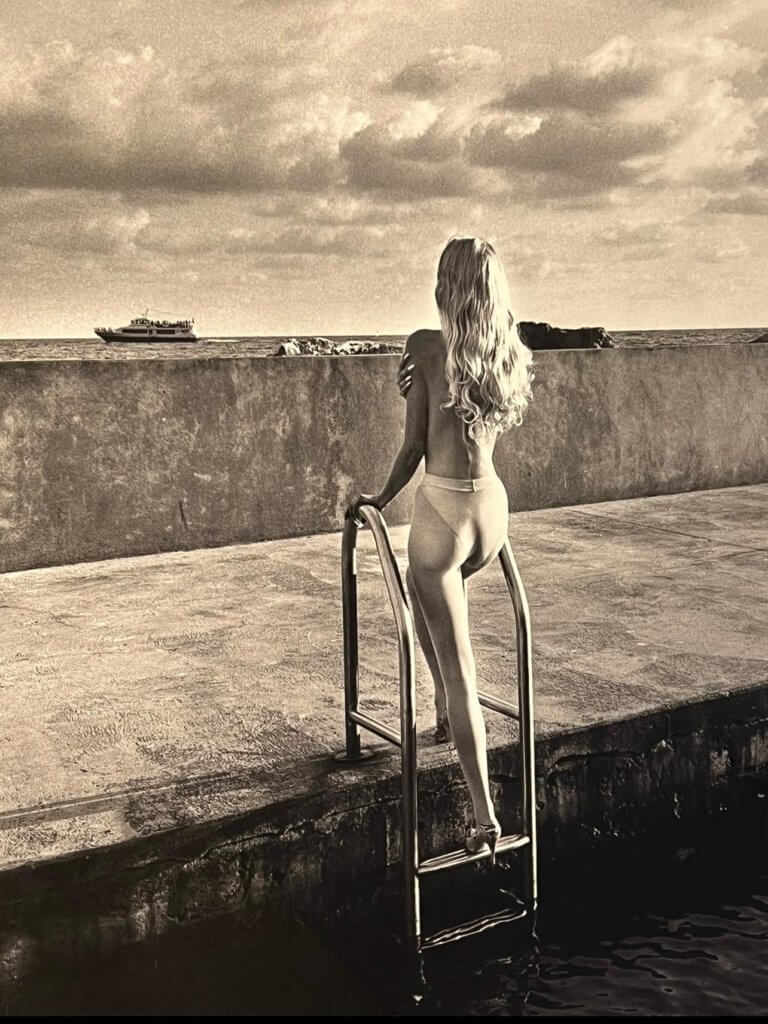 Wolford, 1995, Copyright © Helmut Newton Estate, courtesy of Helmut Newton Foundation.
At the end of the 1990s, Helmut Newton produced a series of photographs in collaboration with the Wolford brand. The models generally pose from behind in magnificent landscapes.
1960s
In 1961, he moved to Paris and produced photos for fashion magazines such as Vogue France, Elle and the English magazine Queen. From this period, Helmut Newton discovers the style that will make him world famous.
From there, his career will take off. He will say it himself: "I think my best years as a fashion photographer were from 1961, when I started working for Vogue France magazine".
Already at that time, Helmut Newton was a free electron. It does not give exclusivity to any particular magazine.
The British magazine Queen has made a splash with this series of photos presenting the innovative collections of the Courrèges brand. Until then, Vogue magazine had the exclusive rights to present the haute couture collections.
Courrèges in Queen, 1964, Copyright © Helmut Newton Estate, courtesy of Helmut Newton Foundation.
1970s
By the 1970s, his style was already established and he continued to break down the moral and social limits of photography.
Fascinated by the visual and interpretive possibilities offered by the mirror, he took several shots with this accessory. The result are enigmatic photographs that are open to multiple interpretations. He also produces anthology shots for the greatest designers such as Yves Saint Laurent, Thierry Mugler, etc. who will mark the history of fashion.
In 1975, he notably produced a photograph which would subsequently be reproduced many times. It represents the emancipation of the woman wearing an Yves Saint Laurent tuxedo hitherto reserved for men's dressing.
Rue Aubriot, Paris, 1975, Copyright © Helmut Newton Estate, courtesy of Helmut Newton Foundation. 
1980s
From the 1980s, he continued to break the codes of photography and created a series of photos that would become unanimously famous and controversial at the same time.
Indeed, he created the photographic concept "Naked and undressed" which he imposed on Vogue. In an identical pose, the models are dressed on one side and on the other, they pose completely naked. Unheard of at the time!
He also photographed the biggest stars and designers of the time such as Andy Warhol and Mick Jagger, Gianni Versace or Karl Lagerfeld. It is the latter that he photographed in 1983 to promote his debut at Chanel.
Elles arrivent, 1981, Copyright © Helmut Newton Estate, courtesy of Helmut Newton Foundation. 
This series of photos never before seen at the time showed models in identical poses, completely dressed on one side and on the other, completely naked
Karl Lagerfeld at Chanel, Paris 1983, Copyright © Helmut Newton Estate, courtesy of Helmut Newton Foundation.
This shot of Karl Lagerfeld was taken in Paris in 1983 on the occasion of his appointment as artistic director of the haute couture house Chanel.
1990s
Until the end of his life, Helmut Newton continued to photograph for the greatest like Thierry Mügler, Yves Saint Laurent, Chanel, etc.
His unparalleled style left an indelible mark on the history of photography. He was the first to elevate fashion photography to the rank of a work of art.
For the record, Helmut Newton was color blind. Which did not prevent him from being one of the most prolific photographers of his time…
1. Gianni Versace, Como Italy, 1994, Copyright © Helmut Newton Estate, courtesy of Helmut Newton Foundation. 2. Iri Ishida, Nice,1992 et Prada, Monte-Carlo, 1994, Copyright © Helmut Newton Estate, courtesy of Helmut Newton Foundation. 3. Monica Bellucci for Blumarine, 1993, Copyright © Helmut Newton Estate, courtesy of Helmut Newton Foundation.
The exhibition
The Helmut Newton Foundation in Berlin is behind this exhibition. Postponed for a year due to the hanging of the Covid, it was presented on October 31, 2021 on the occasion of what would have been its hundredth anniversary.
The traveling exhibition took place in Knokke, in the recently renovated Ravelingen building. This world-renowned retrospective is also the only stopover in the Benelux.
It chronologically retraces the work and life of the photographer, from the 1950s to the 1990s.
The exhibition is punctuated by his most famous shots but also by the least known.
The exhibition is punctuated by his most famous photographs, but also some lesser known ones. Archive images, publications and a short film also complete the exhibition.
The latter was directed by Helmut Newton's wife herself, June, who directed this film. June Brunel, known as Alice Springs married Helmut in 1948.
This short film is touchingly authentic and helps to better understand the personality of the famous photographer.
The exhibition presents more than 300 photographs from the 1960s to 1990s, but also archival documents and a film.
Bibliography
The German publishing house Taschen has published a catalog of the exhibition. It is available at the exhibition shop or on the Taschen website.
This book presents the most famous photographs but also many recently rediscovered images.
It therefore pays tribute to Helmut Newton as a photographer with an exceptional career as well as his great influence on the visual arts and photography even today.
Helmut Newton. Legacy, ed. TASCHEN, €80
Infos:
WHERE ? : Ravelingen, Koudekerkelaan 33, 8301 Knokke-Heist 

WHEN ? : From June 10 2022 to September 25 2022 - 10 am - 18 pm

PRICE : €14.95 standard ticket (online) / €16 standard ticket (at the door)

SUMMER PROMO! 2nd ticket at -50% using the promo code "SUMMER ACTION". The promotion is valid from Monday to Friday in July.
Et toi, quelle exposition as-tu vu récemment ? And you, what exhibition have you seen recently ?
Share your best looks on instagram @scandalook and on the SCANDALOOK App !