What's the trendiest colors for spring/summer 2022 ?
Sunny days are making a comeback and so are vibrant colors ! When the sun is pointing the tip of its nose, we want to put some pep in our outfits with touches of color as an accessory for example or as a total look. 
The color block trend is therefore perfect for this season. It allows you to combine very bold colors with each other such as fuchsia pink and red and it's a guaranteed trendy look ! 
Little color guide to adopt absolutely as well as a selection of essential pieces to shop for this spring/summer !
Purple
Colors will be everywhere this summer, especially purple color. Pastel lilac is still relevant, but it is the darker purple or plum mauve that is truly fashionable. Moreover, the color of the year 2022 according to the Pantone Color Institute is Very Peri. It's a fairly pale purple that we find in particular in the collections of Stella McCartney. The proof is that this is THE shade to adopt this season! At Chanel, the mauve is rather pale while Versace has chosen a vibrant purple in total look from head to toe.
SHOP THE LOOK
1. Harper blazer with structure and flap pockets Sandro on De Bijenkorf, 365€. 2. Bernard straight-cut high-waisted short pants with pleated detail Sandro on De Bijenkorf, 225€. 3. Quilted Leather Mini Kensington Soft Shoulder Bag Kurt Geiger on De Bijenkorf, 220€. 4. Corset-effect mesh top Stradivarius , 15.99€. 5. Shoulder bag with quilted pattern Sandro on De Bijenkorf, 265€. 6. Short jacket with buttons Zara, 49.95€. 7. Satin lingerie-style dress Zara, 29.95€. 8. Men's Lapel Collar Blazer Pull&Bear on Zalando, 39.99€. 9. Bershka straight jeans via Zalando, 25.99€. 10. Open-back heeled shoes Stradivarius, 29.99€. 11. Signature bucket hat Karl Kani via Zalando, 39.95€. 12. American armhole top with rhinestones Bershka, 13.99€.
Orange
What color more vitaminized than orange can make a look so dynamic? We choose a total look like a suit or a long vaporous dress or a more discreet touch on a bag or a belt for example. It can be found at Jacquemus in particular, at Chloé in the flowing dress version or even at Christian Dior in suit sets with short skirts.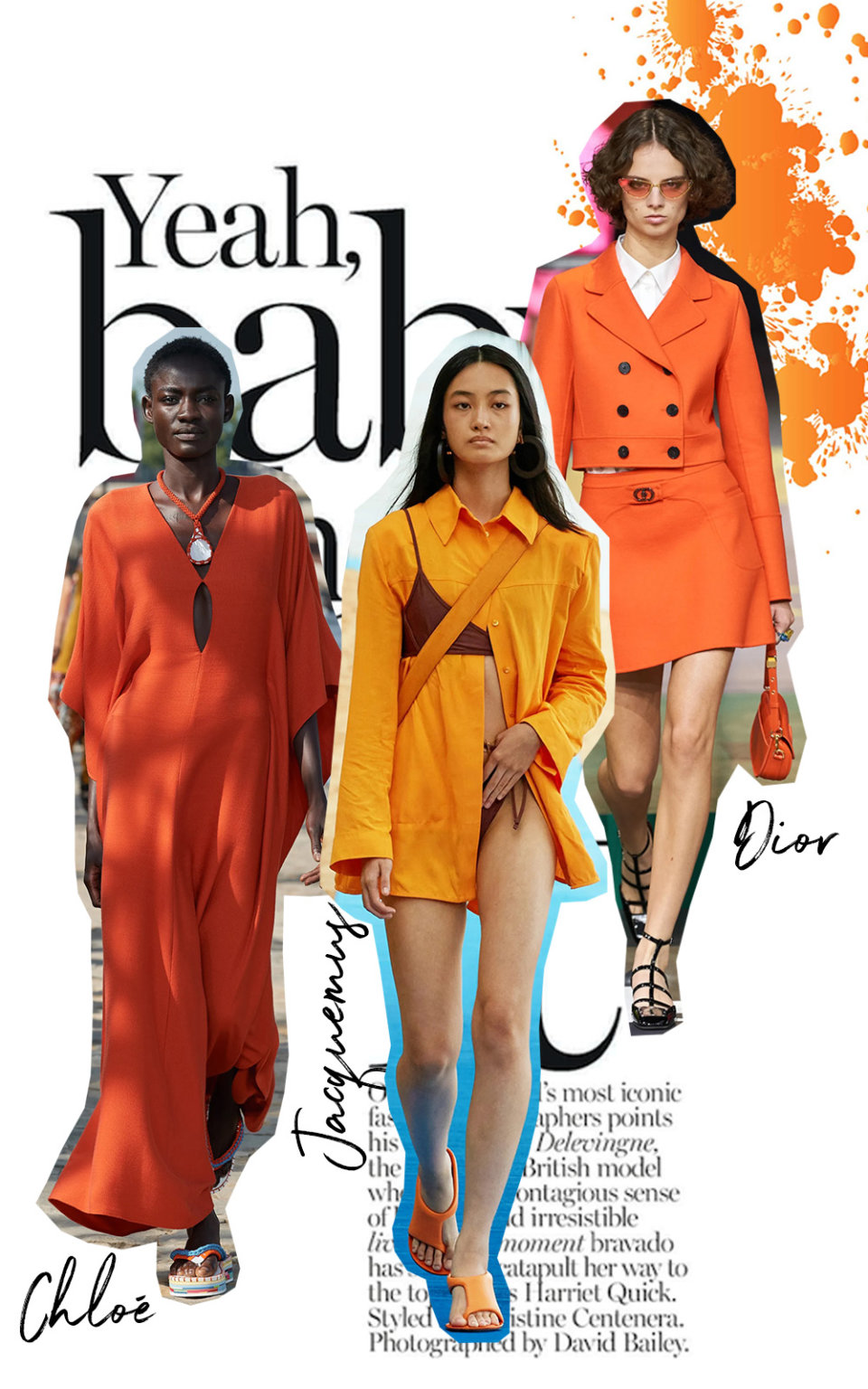 SHOP THE LOOK
1. Lake midi wrap dress in lyocell with lacing detail Mango via De Bijenkorf, 49.99€ 39.99€. 2. Combination with crossed straps Mango, 49.99€. 3. Logo plaque shoulder bag Chiara Ferragni via Farfetch, 151€. 4. High-waisted flared pants with piping Sandro via De Bijenkorf, 225€. 5. Regular fit cargo pants Stradivarius, 29.99€. 6. Cropped blazer with jewel Bershka, 35.99€. 7. Strappy heel sandals Mango, 49.99€. 8. Mesh polo vest with buttons Stradivarius, 19.99€. 9. Skort with loops Zara, 25.95€. 10. Pleated miniskirt Bershka, 19.99€. 11. Russian Leather bucket bag Longchamp via Farfetch, 250€. 12. Short blazer with ties Zara, 49.95€.
Yellow
The light yellow color "butter" or more vibrant is a color to wear absolutely this season. Chanel has understood this well and declines it in crop top and short version tweed sets. At Christian Dior, yellow is sunnier and more satiny, while Bottega Veneta opts for a pale yellow dress with touches of orange.
SHOP THE LOOK
1. Double breasted blazer with shinny finish Co Co'Couture on De Bijenkorf, 209€. 2. Platform sandals Stradivarius, 35,99€. 3. Frida denim jumpsuit ba&sh, 240€. 4. Mini handbag Razor Clam Opening Ceremony on Farfetch, 175€. 5. Slit midi skirt Mango, 39.99€. 6. Top with knot at the waist Zara, 7.95€. 7. Structured skort Zara, 29.95€. 8. Top with gathered straps Mango, 25.99€. 9. Handbag Even&Odd via Zalando, 24.99€ 16.29€. 10. Maje satin scarf dress with pearl jewelry, 335€. 11. Loose double-breasted tailored jacket Maje, 355€ 213€. 12. Nike Sportswear cap via Zalando, 22.95€.
Red
Bright red is one of the most present colors in the spring/summer 2022 fashion shows. It can be associated with a fuchia pink for an assumed color block trend like Sacai. Or, you can opt for a total look with a top and matching pants like at Balmain. The beautiful flamboyant red dress is also very trendy as Valentino proves to us with an unstructured flowing dress associated with rhinestone details.
SHOP THE LOOK
1. 100% linen dress Mango, 59.99€. 2. Textured flare pants Bershka, 19.99€. 3. Linen mini skirt Mango, 29.99€. 4. Long responsible viscose dress Claudie Pierlot, 285€ 228€. 5. Long Pralù knit Jacquemus on Printemps, 310€. 6. Textured strapless corset top Bershka, 12.99€. 7. Leila flat sandals Alexandre Vauthier, 600€ 360€. 8. Zara Quilted shoulder bag with chain, 25.95€. 9. woven wicker bucket bag Prada on Farfetch, 1375€. 10. Plain leather belt Zara, 22.95€. 11. blazer dress Bershka, 39.99€. 12. Plastic frame sunglasses Mango, 19.99€.
Green
If we had to choose only one color for this spring/summer 2022, it would undoubtedly be green. You see it literally everywhere on the catwalks and now in stores. Flagship color par excellence, it comes in a multitude of shades ranging from very light green as at Valentino to grass green which is the current trend at Bottega Veneta. Finally, Gucci mixes several shades of green together for a colorful look!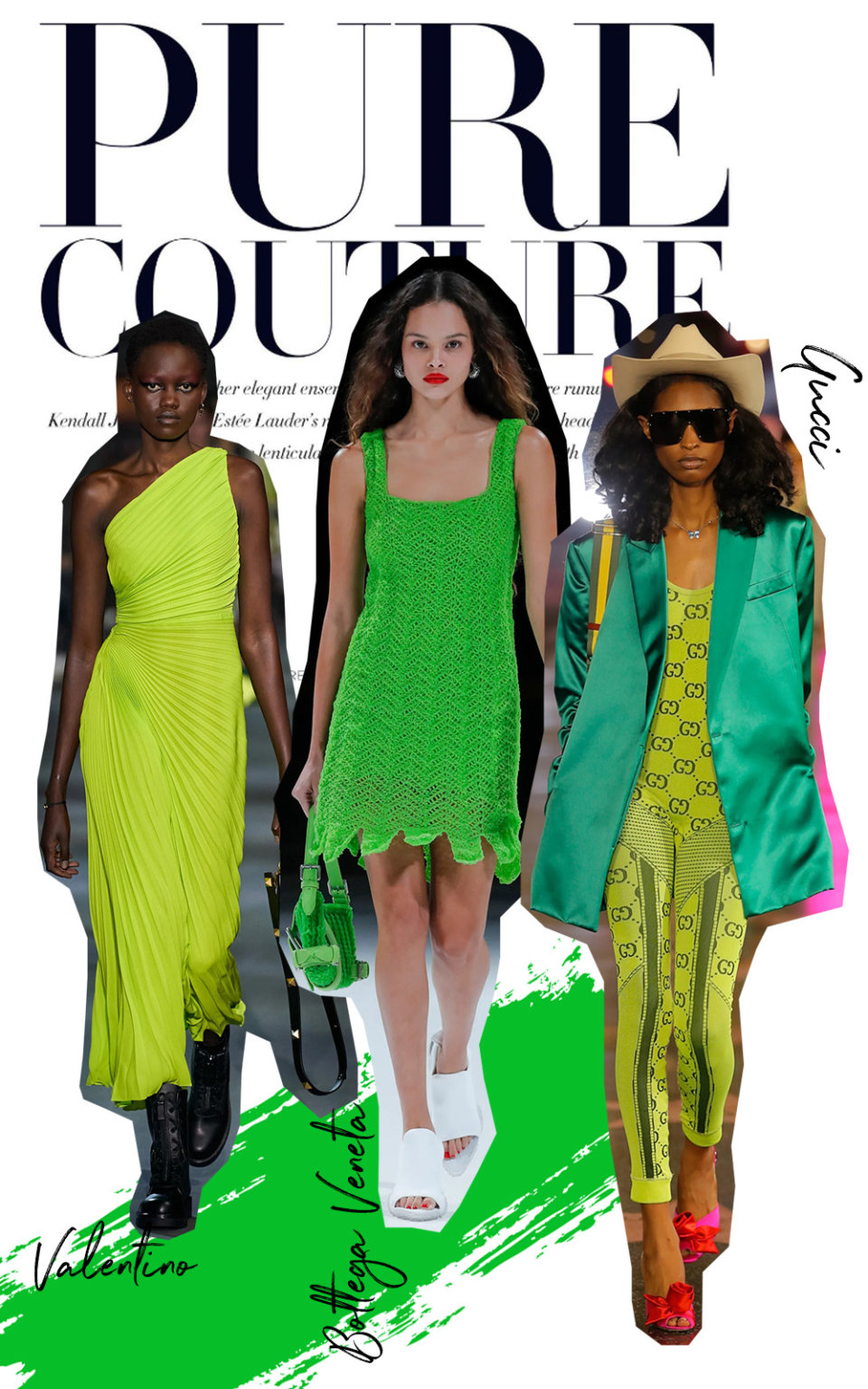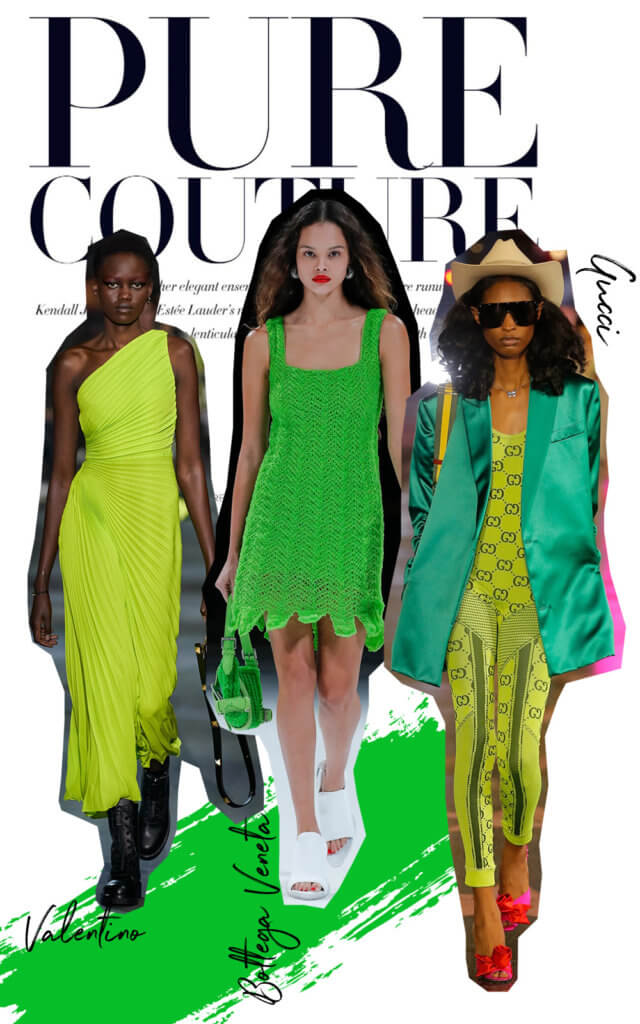 SHOP THE LOOK
1. Jacket 100% linen Mango, 69,99€. 2. Top with cut-out and driving detail Jacquemus via De Bijenkorf, 175€. 3. Noelia sleeveless midi dress with pleats Sandro via De Bijenkorf, 285€. 4. Crossover seamless top Stradivarius, 8.99€. 5. Green Fig top ba&sh, 115€. 6. Colorful corset top Stradivarius, 15.99€. 7.  Platform heeled sandals Stradivarius, 45.99€. 8. Daniela short dress with jacquard pattern ba&sh, 220€. 9. Cotton poplin cropped shirt Selmacilek on Printemps, 190€. 10. Versace Jeans Couture bag on Revolve, 231€. 11. Le Chiquito handbag Jacquemus via Farfetch, 450€. 12. Pleated pants Zara, 22.95€.
White
Here is another of the most seen colors on the catwalks of fashion shows. Almost all designers have been inspired by it to create perfect silhouettes for this spring/summer. Saint Laurent, Altuzarra or Alaïa use immaculate white in a total look, structured or unstructured long dress version.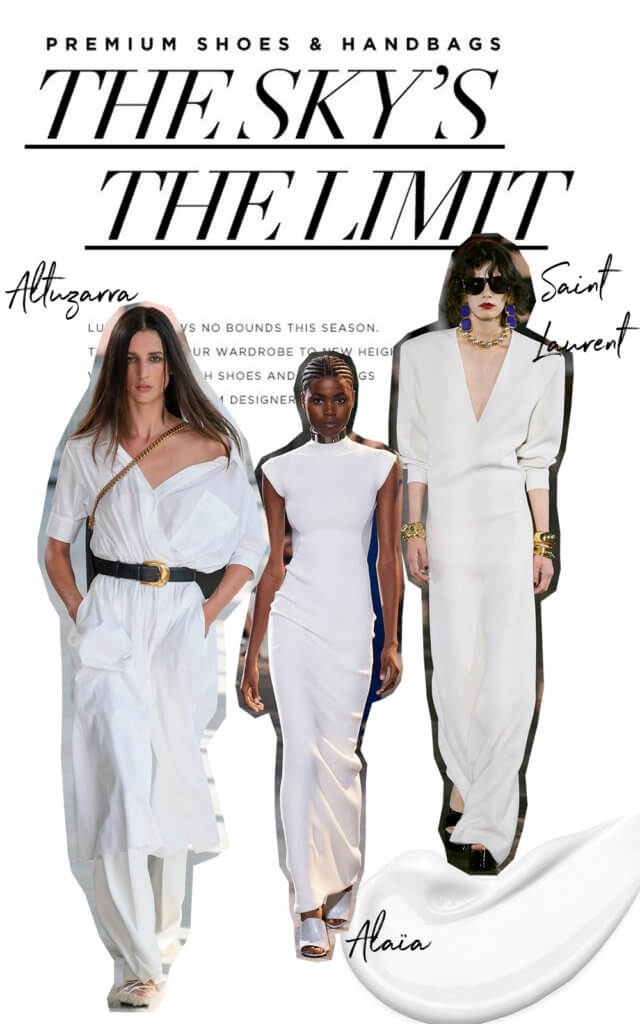 SHOP THE LOOK
1. Brilliant blazer with laced sleeves rhinestones Bershka, 49.99€. 2. Shiny rhinestone laced wide leg pants Bershka, 39.99€. 3. Patent leather clutch Claudie Pierlot, 225€. 4. Short white lace dress with openwork details The Kooples, 275€ 220€. 5. Heel leather sandals Mango, 49.99€. 6. Open back jumpsuit Mango, 59.99€. 7. Corset-style crop top Zara, 25.95€. 8. Shirt collar dress Mango, 49.99€. 9. Mini Jodie handbag Bottega Veneta via Farfetch, 1800€. 10. Lizard mules NA-KD, 46.95€. 11. Cotton bucket hat Mango, 19.99€. 12. Draped mini skirt Zara, 25.95€.
Pink
Pink is a timeless color and perfect for brightening up spring and summer outfits. Combined with a fiery red, a touch of pink gives a look all its sparkle. Designers took inspiration from it to create silhouettes with vaporous and airy cuts, ideal for sunny days. Jacquemus opted for a total pink look with fuchia hues combining a bikini with a pink denim jacket, suit pants and pink hoop earrings. At Almeida, the pink satin dress is self-sufficient with red sunglasses. Finally, Proenza Schouler imagined a long pink dress to magnify this color and associated with a red bag.
1. Draped mid-length dress Zara, 45.95€. 2. Scarf-style satin top Stradivarius, 12.99€. 3. Hourglass XS crocodile-effect leather Balenciaga, 1.890€. 4. Pacha satin cargo pants Stradivarius, 39.99€. 5. La Robe Limao short halter dress in linen blend with cut-out detail Jacquemus on De Bijenkorf, 565€. 6. Cessily bucket hat with logo trim Guess on Zalando, 45€. 7. Rayabis silk short dress with knotted detail Claudie Pierlot on De Bijenkorf, 265€ 212€. 8. Bambinibis silk wrap top with tie belt Claudie Pierlot via De Bijenkorf, 195€ 156€. 9. Rectangular sunglasses Bershka, 12.99€. 10. Raffia tote bag Prada via Printemps, 1,400€. 11. Jadena fine knit miniskirt with decorative buttons Maje on De Bijenkorf, 175€. 12. Side men's pants Zara, 39.95€.
What colors are you going to fall for this spring/summer ?
Share your best looks with us on Instagram @scandalook and on the SCANDALOOK app !