How to dress for the WECANDANCE festival ?
The festival season is not over! 
WECANDANCE is the Belgian summer electro music festival not to be missed. 
During the month of August, the Belgian coast attracts many stylish festival-goers who come to enjoy the best electro sounds of the moment. 
As always, a theme is announced by the festival and this year it is called "Just an illusion". Get inspired by these incredible looks to dazzle at one of the trendiest festivals!
WECANDANCE
This edition of the WECANDANCE festival is back in force after two years of cancellation due to the covid pandemic!
On 5 open stages, Belgian and international artists such as Jennifer Cardini, Adriatique, DJ Holographic, Carlita, etc. take turns during the first two weekends of August: August 6 and 7 and August 13 to 14 in Zeebrugge.
The festival is mainly known for creating an immersive experience where music, art, gastronomy and especially fashion. The organizers of the event are indeed fashion fans. Thus, each year, an ever more original theme is associated with the festival. During previous editions, we were therefore able to find themes such as "One thousand and one nights" or "Nomad safari".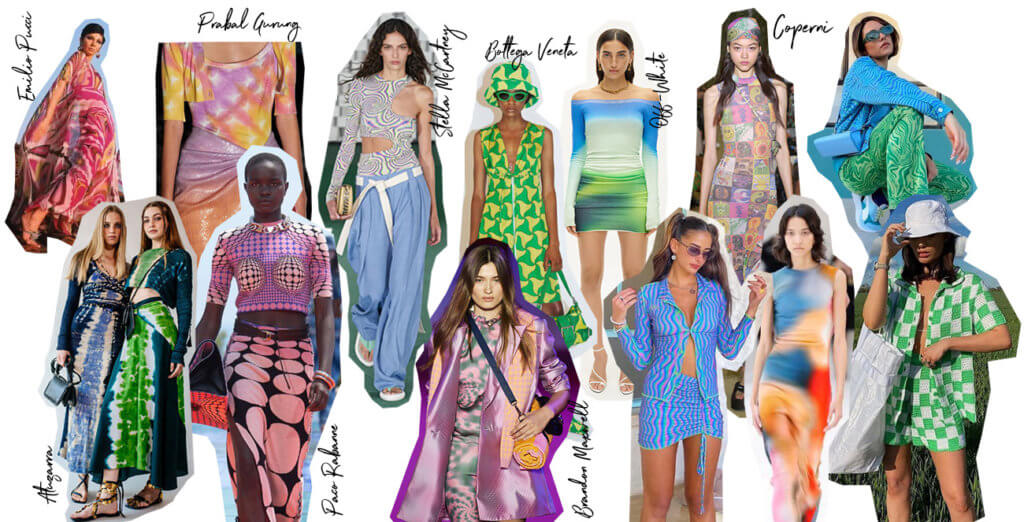 "Just an illusion"
The theme of this year's We can dance festival is therefore entitled "Just an illusion".
The latter is directly inspired by Paris Fashion Week last September and more specifically by psychedelic prints and colors. Games of textures, geometric prints, color block silhouettes, Tie and Dye style color gradients, that's how to adopt the perfect look for this edition of the We can dance festival! Very sixties and seventies fabrics are therefore de rigueur for this theme.
On the material side, crochet is making a strong comeback and adapts wonderfully to these more than original prints.
Finally, if only one color had to be adopted, it would undoubtedly be green. We have already seen it everywhere on the catwalks and in stores, but it remains THE flagship color not to be missed this year.
Of course, this dress code is not mandatory, it is above all there to inspire you. The best look is the one you like, so let your creativity do the talking!
To find inspiration for the theme, do not hesitate to consult the Pinterest board created especially by the festival.
And discover without further delay our most beautiful selection below!
1. 70's psychedelic print
The psychedelic artistic movement appeared in the 1960s in parallel with the democratization of drugs such as LSD which cause hallucinations or ecstasy.
Psychedelic prints are therefore directly inspired by the sixties and especially the seventies and increase or reinforce the sensory perception of drug use.
Patterns and prints reflect colorful designs and colors that should stimulate the mind. They consist of waves, roundings with blurred outlines or floral prints.
Fluid cuts, multiple colors, bohemian effect cuts, holographic effects, these are the main characteristics of the psychedelic style.
Shop the look
1. Strapless dress with satin printed neckline Bershka, €29.99. 2. Printed satin strapless corset top Bershka, €25.99. 3. Printed culottes Stradivarius, €25.99. 4. Printed fluid jumpsuit MANGO, €59.99 €39.99. 5. Trapeze skirt NA-KD, €69.95. 6. Space-dye crossover neckline knit top Bershka, €19.99. 7. Bandeau mini dress NA-KD, €34.95 €20.97. 8. Mango printed mini skirt, €29.99 €25.99. 9. Heart-printed American neckline top Bershka, €12.99. 10. Printed fluid blouse MANGO, €39.99 €25.99. 11. Printed high-waisted shorts ZARA, €25.95. 12. Retro printed dress MANGO, €25.99 €19.99. 13. Isella straight cut high waist shorts with floral print Maje on De Bijenkorf, 155€ 124€. 14. Sequin dress with low back MANGO, €49.99. 15. Blue printed scarf NA-KD, €28.95. 16. Oversized dress H&M, €34.99 €25.99. 17. Print scarf Pucci on Farfetch, €595. 18. Tropicana print shirt dress Pucci on Farfetch, €2085. 19. Printed mini-skirt ZARA, €22.95. 20. 60s style bright floral print ring long cut-out dress Asos, €70.99.
Pucci style
Already from the 1950s, the Italian designer Emilio Pucci initiated the golden age of colorful prints with multiple patterns all in arabesque with flowers. The "Just an illusion" theme therefore lends itself perfectly to this more than colorful style.
This is the perfect little dress with a very seventies floral print worn by @clemnzi !
Shop the look
1. Floral print dress Loavies, €69.99 €24.50. 2. Chuck Taylor All Star Platform Converse, €85. 3. Square sunglasses NA-KD, €23.95.
@celinemaufor chose a pink shirt that perfectly matches the colors of her printed skirt with rippling patterns.
Shop the look
1. Satin shirt ZARA, €19.95. 2. Printed mini-skirt ZARA, €25.95. 3. Loulou medium bag in quilted calfskin Saint Laurent on De Bijenkorf, €2,300.
@annabelle_moreels opts for a Pucci-inspired mini skirt with a tied halter top and white trainers.
Shop the look
1. Organic ribbed sleeveless top with open back Miss Selfridge on Asos, €22,99. 2. Printed short skirt ZARA, €29.95. 3. Forum mid-high trainers Adidas on Asos, €110 €71.50.
@elisa_kulcsar is wearing a very beautiful Pucci style flower print colorful dress.
Shop the look
1. Dress slinky chiffon multicolored floral silk V neckline and cable Pretty Little Thing, €42 €26. 2. Quilted chain bag ZARA, €25.95. 3. Tortoiseshell cat-eye frame square sunglasses Asos, €16.99 €13.75.
@noemiekrysiuk wears a very pretty floral print pants which she pairs with a beige bandeau top and a drawstring bucket hat.
Shop the look
1. Brilliant top with straps and teardrop detail NA-KD, €32.95 €23.06. 2. Loose Floral Print High Waist Jeans Shein, €17.99 €9.49. 3. The artichoke bucket hat in cotton by Jacquemus on Printemps, €110.
 @the_quag inspires us with a long printed and colorful dress associated to 
equally colorful accessories such as an orange bag and pink pumps.
Shop the look
1. Tulle color block ruched button dress Shein, €16. 2. Le Chiquito leather bag Jacquemus on My Theresa, €425.
Waves
The waves pattern is a must-have print in psychedelic fashion. This print literally flooded the catwalks at Fashion Week last September. It has thus been seen in particular at Dries Van Noten, Stella McCartney or Brandon Maxwell.
A colorful shorts and shirt set with very psychedelic wave prints that @jadeluyckx wears wonderfully.
Shop the look
1. Green blouse with print Loavies, €39.99. 2. Swirl printed green shorts Loavies, €39.99.
@jadeluyckx is wearing a totally festival-themed outfit with a psychedelic printed top as well.
Shop the look
1. Red fishnet top Loavies, €17.99 €14.39. 2. Split jeans Loavies, €59.99. 3. White belt Loavies, €15.99. 4. Pink sunglasses Loavies, €12.99. 5. Fringed lambskin M bag handbag Maje on De Bijenkorf, €235.
@belibff wears the wave print trend in an orange knit dress.
Shop the look
1. Backless dress in fine mesh NA-KD, €19.99 €5.99.
@jobbyba dares the printed pants that she associates with a white top and pink platform shoes.
Shop the look
1. Bra ZARA, €15.99. 2. Flared pants Topshop via Asos, €44.99. 3. Open wedge shoes Stradivarius, €39.99.
Floral prints
The floral print is also a symbol of the 1960s and especially the 1970s. The flowers are full of very flashy colors and are repeated in a succession of patterns very characteristic of psychedelic prints.
@julietteandrien is wearing a very pretty pink and orange floral set directly inspired by the patterns of the seventies.
Shop the look
1. Printed blouse Loavies, €29.99. 2. Floral print shorts Loavies, €21.99.
2. Neon
The neon color or mixture of fluo colors is totally in this year's WECANDANCE theme. Neon green is definitely the trendiest color. If we lack inspiration, we draw on the spring/summer 2022 fashion show by designer Jacquemus.
Shop the look
1. Rib strap bodysuit Bershka, €17.99 €12.59. 2. Asymmetrical jumpsuit MANGO, €59.99. 3. Mesh crop top MANGO, €22.99. 4. Maxi ruffled dress MANGO, €25.99. 5. Neon shoulder bag MANGO, €29.99. 6. Bodycon dress Boohoo, €18 €9. 7. The Baci shirt Jacquemus, €390 €195. 8. Limao shorts Jacquemus, €295 €150. 9. Seamless crop top with straps Bershka, €5.99. 10. The Aranja jersey Jacquemus, €215 €110. 11. Neon shoulder bag MANGO, €29.99. 12. Limao shorts Jacquemus, €295 €150. 13. Asymmetrical swimsuit H&M, €29.99. 14. Top with openings H&M, €19.99. 15. The Aranja jersey Jacquemus, €215 €110. 16. The Marubia knit Jacquemus, €100 €90.
@wendy_oua takes on the neon green trend with a bikini top that she pairs with an openwork top and psychedelic-patterned pants.
Shop the look
1. Transparent lace top with stand-up collar Shein, €6. 2. Neon bikini with knot Shein, €11. 3. High neck lace transparent top Shein, 13,49€ 12,49€. 4. Air Force 1 sneakers on Running Nike, €110. 5. Bag Eastpak, €21.90 €17.90.
@ziggydolly rock the neon trend with a neon green dress, fringed faux leather jacket, black Dior bag and white sneakers.
Shop the look
1. Faux leather jacket with fringes Miss Selfridge on Asos, €64.99. 2. Mesh top with sport style logo Collusion on Asos, €34.95. 3. Bi-material skort ZARA, €29.95. 4. Triple S trainers Balenciaga on De Bijenkorf, €895. 5. Volt unisex socks Nike on Asos, €17.99 €11.75. 6. Bobby Medium bag Dior, €3,100.
3. Geometric prints
For this theme, geometric prints are really in the spotlight. For example, the checkerboard print is to be adopted as a total look like a set of shorts and a shirt, or simply a piece like at Oscar de la Renta. But it is the green checkerboard print that is particularly popular. The round shapes, on the other hand, are more assertive and the outlines sharper, as we saw in the Paco Rabanne spring/summer 2022 collections. Finally, the print that mixes geometric shapes with each other is also a safe bet.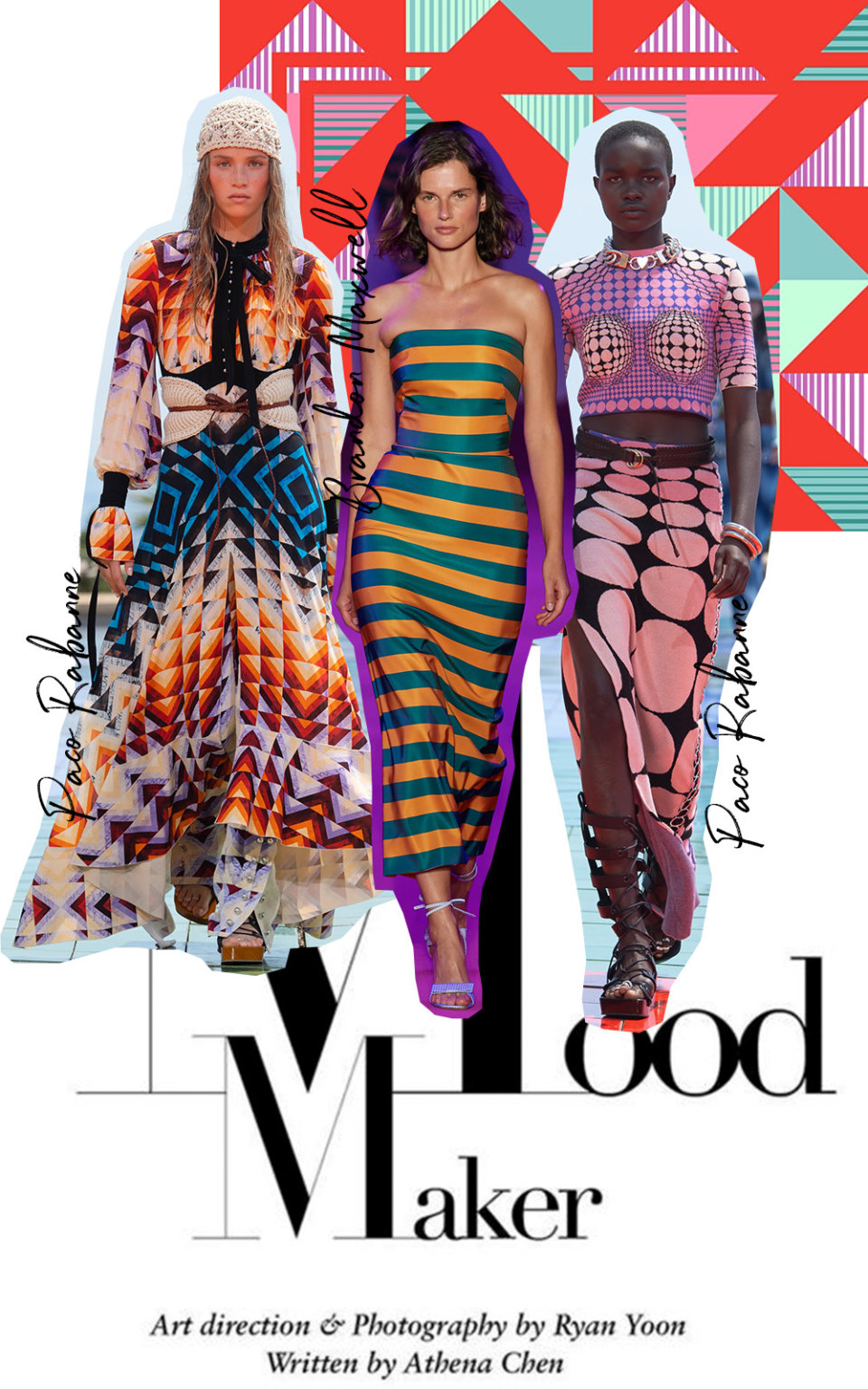 Shop the look
1. Mini slip dress bare back printed hook Miss Selfridge on Asos, €32.99. 2. Gelato mesh Jacquemus, €340 €170. 3. Fluid shirt ZARA, €32.95. 4. Fluid high-waisted pants ZARA, €32.95. 5. Bikini top NA-KD, €11.95. 6. Geometric Print Crop Top Loavies, €21.99 €17.59. 7. Geometric print flare pants Loavies, €39.99 €31.99. 8. Geometric print scarf MANGO, €12.99. 9. Printed bandeau top Loavies, €25.99. 10. Printed denim pants Loavies, €49.99. 11. Printed midi skirt Monki, €25. 12. Short satin dress buttoned on the front with green checkerboard print Asos, €42.99. 13. Striped mid-length dress ZARA, €79.95. 14. Printed scarf MANGO, €12.99. 15. Draped slit mini dress NA-KD, €46.95.
@annabelle_moreels wears a very pretty geometric top totally trendy.
Shop the look
1. Geometric Print Vest Aliexpress, €26.67 €15.21. 2. Top tube NA-KD, €32.95 €23.06. 3. Forum mid-high trainers Adidas on Asos, €110 €71.50. 4. Structured mini-skirt Asos, €38.99. 5. Rosen sunglasses Jeepers Peepers on Asos, €27.99 €14.
@ziggydolly chose a set with a green checkerboard print that is sure to match the theme.
Shop the look
1. Button geometric print shirt Shein, €13. 2. Top and shorts set Shein, €10. 3. Sunflower bag Etsy, €35.73. 4. Orange jersey crop top Pretty Little Thing, €10 €6. 5. Socks on Running Adidas, 12€ 8,40€. 6.Ozweego shoes on DressIn Adidas, €120.
4. Rainbow style
Finally, it's the return of the famous Tie and Dye print for the festival! We choose sets, a dress or simply an accessory of this print available in two or more colors for more style! Fashion designers have taken inspiration from it to reinvent it like Off-White, Hermès, Louis Vuitton and even Jacquemus.
The Sonia Rykiel style striped or rainbow striped print is also a pattern that can be inspired to be in the theme. The stripes are longitudinal or vertical and in 1 or 2 colors, to differentiate from the typical rainbow stripes of the rainbow style. They are found in the collections of Brandon Maxwell, Stella McCartney, MSGM in particular.
Shop the look
1. Printed top to tie on the sides NA-KD, €46.95. 2. Tie-dye print shirt ZARA, €29.95. 3. Tie-dye printed shorts ZARA, €25.95. 4. Long beach dress with long sleeves and plunging neckline Asos, €49.99. 5. Multicolored mini dress Loavies, €39.99. 6. Printed recycled pants with drawstring NA-KD, €43.95. 7. Short twisted dress in front of Loavies, €75.95 €53.16. 8. Off-the-shoulder ruched mini dress NA-KD, €43.95 €26.37. 9. Long cut-out dress in ribbed knit NA-KD, €80.95. 10. Haryana bucket hat with cord and tie-dye pattern Ba&sh on De Bijenkorf, €95. 11.  padded triangle bikini top with removable padding Lulli Fama on De Bijenkorf, €96. 12. Wyn leather shoulder bag with removable pocket Coach on De Bijenkorf, €325. 13. Pacha printed micro top Stradivarius, €15.99 €5.99. 14. Pacha flare pants Stradivarius, €25.99 €9.99. 15. Lined set Asos, €24.99. 16. Long dress with lace detail and dip-dye pattern Maje on De Bijenkorf, €355 €248.50. 17. Multicolored striped tank top Sonia Rykiel, €210. 18. Knit striped pants The Elder Statesman on Farfetch, €2048 €1536.

@jottieverbruggen wears a very pretty top and ruffled skirt set with blue and pink Tie and Dye print.
Shop the look
1. Blouse with long sleeves crossed effect chiffon printed degraded Bershka, €19.99. 2. Degraded printed chiffon effect long-sleeved blouse Bershka, €19.99. 3. Sunglasses Chloé on De Bijenkorf, €330.
@noemiekrysiuk opt for a blue mini dress with a tie-dye print and butterflies.
Shop the look
1. Sheer Mesh Mini Dress Aliexpress, €23.35 €12.85.
This little tight printed dress that @haycette_chose is also totally in the theme.
Shop the look
1. Fluid Pattern Cover Up Shein, €5.99 €4.49
Practical information
WHERE ? : Zeebrugge beach, Belgium

WHEN ? : From Saturday 6 to Sunday 7 August and from Saturday 13 to Sunday 14 August 2022

PRICE : Day tickets: €60 (later €65) - Weekend: €105 (later €110) - Double weekend: €190 (later €200)
And you, how do you plan to dress for the festival ?
Share your best looks on Instagram @scandalook and on the SCANDALOOK app !